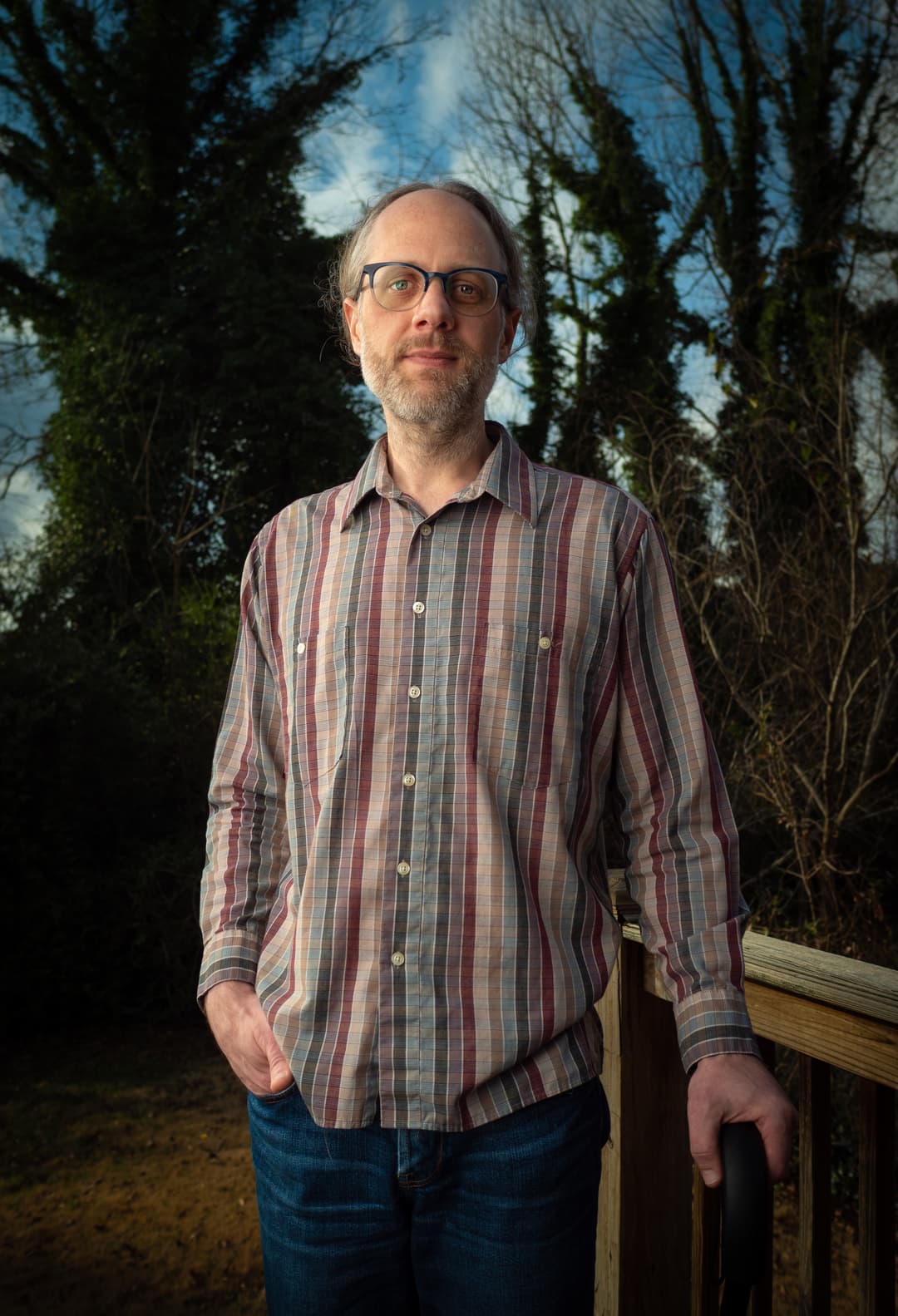 Welcome to studilaroche, the studio home of Benjamin Price: fellow human, engineer, producer, musician, papa.
I've been working professionally with audio since 1998: recording engineering, mixing, mastering and producing music, voiceover, audio for film and video, sound design, location recording, sound reinforcement, musical performance, consulting.
Some background: I interned at Tree Sound under Paul Diaz and Jim Zumpano, worked for pro-audio rental company Eclipse Audio with John Rogers and Jimmy Z, was mentored by Ricky Keller at Southern Living At Its Finest recording studio for 5 years, rising from intern to house engineer and studio manager, and co-founded Red Tuxedo with Alex Lowe. Since 2006 I've operated studilaroche productions, inc., where I've focused on music production, recording and mixing. Over the past 5 years or so I've been diving deeper into mastering. I've also done some time in sales at Sweetwater and taught mixing, plug-ins and production courses at AIM.
Guitar is my primary instrument, but I also play bass, french horn, drums, vocals, percussion. I've played in some bands: John Wayne with the Power and the Glory, Disguise the Sky, HIGH BIAS, DeadPan Alley, Population, PENN BRYCE, Water Liars, Chris Childs Orchestra, Rock Lotto/Happenstance.
Recent Work
Atlanta Improvisers Orchestra
Austin Potter
AKQA
Chick-Fil-A - Code Moo
Chris Childs
Little Tybee
Adult Swim
Sunset Pig
Art Edwards
GKu
Golden Brown
Bizarre Statue
Mystery Cassette
W8ing4UFOs
Nero Simon
CHEW
Heart of the Nearest Star
Dicaprio
Majid Araim
Chris Stalcup and the Grange
Kim Madsen
Haquilliums
Peter Webb
Dicaprio
BASrelief
Samadha
PENN BRYCE
Konda
Robert Bret Hartley
Paul Daniels
TagTeam
David McClatchey
Whispers of Night
Karaoke
Quas
Santiago Paramo
Andy Ditzler
Parsons Rocket Project
John Searson
Greenscreen
Hello Ocho
the Black and White District
Keith Leslie
Mark Harper
Auction House Letters
Chick-fil-A
IMA DO.
Older Work
Faun and a Pan Flute
Twittering Machine
Hello Ocho
SurlyPop
Five-Eight
Outkast
Chas Burrell
Kristen Englenz
Chase56
Toni Braxton
Endangered Species (Jimmy Herring - T Lavitz - Richie Hayward - Kenny Gradney)
Carey
Billy Greer
Third Day
Gang of Four
Morningwood
the Hives
Brodie Stove
Cadillac Jones
DeadPan Alley
Disguise the Sky
Babbie Mason
DTPG
John Wayne
Project Z (Ricky Keller - Jimmy Herring - Jeff Sipe - Oliver Wells - Jason Crosby)
Shawn Mullins
Nat Turna
Emma Gies
Casey Hood
Sonoramic Commando
Alberto Roman
Triloco
Jerry Joseph and the Jackmormons
Swingset
the Turner Project
Coca-Cola
JB
Dirty and Errol Moore
Clay Harper
Peter Webb
Suno Deko
Nillah
Mara
Spirits and the Melchizedek Children
Silent Kids
Auction House Letters
Athfest 10
et plus
Studilaroche Productions Inc.
© 2023, All Rights Reserved
Atlanta, GA
studilaroche@gmail.com